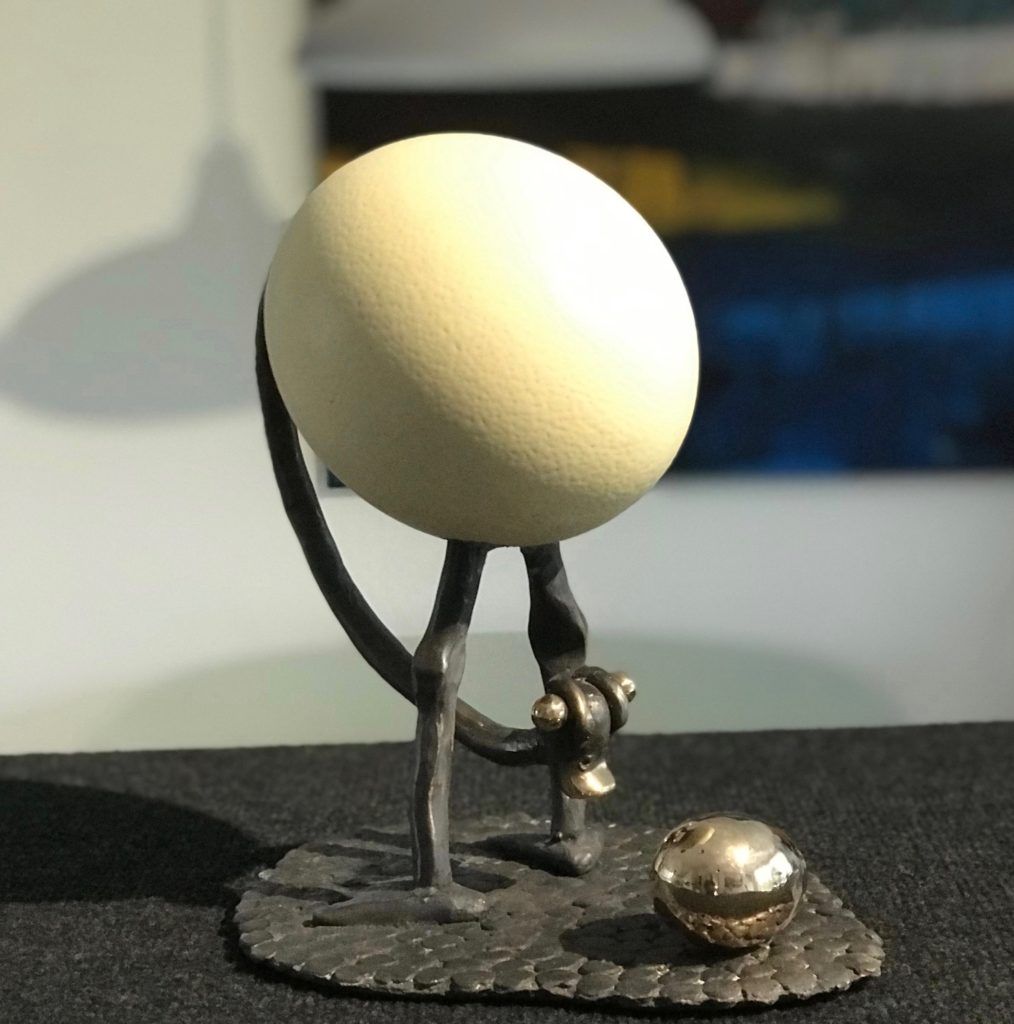 Behind Hans Felthaus ostriches. It has taken Hans Felthaus many years and courses to develop the whole concept and process of the ostriches. Felthaus has taken exciting courses with various renowned sculptors and, among other things, the company. at the renowned and famous Gallery Galschiøt. Which has a workshop and museum in Odense.
As a Felthaus gallerist, I have visited his workshop sometimes. It has been a great pleasure to get to know the full process. I've been impressed with the long process and how many sub-processes are underway and things can go wrong. 
Felthaus is very perfectionist with his craftsmanship. And that's why it's always been a pleasure to work with him.  Things are just fine. See all Felthaus ostriches in the webshop
A comprehensive and exciting process
Here we come behind the ostriches. A mapping of how the whole process is:
Modelling of the ostriches in wax. All molds are thrown out after each ostrich.
Molding in plaster
Evacuation of wax – burns adult out in the oven
Bronze casting

 

Unpacking the cast
Ciselering (metal surface decorating)
Patination in sulfur liver

 

Polishing
Mounting the cast broze parts 
Filling the eggs with concrete
The ostrich is finished and ready for sale and exhibition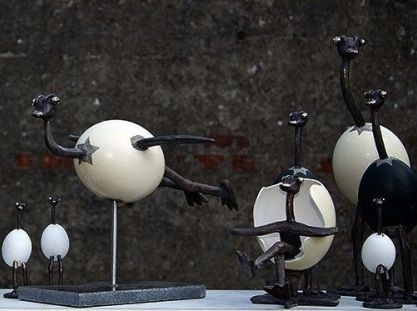 All the ostriches are made into real, untreated eggs. The eggs currently used are ostrich eggs, emu eggs (greenish eggs from the Australian ostrich), chicken eggs, quail eggs. Finally, Hans also makes "The Egg". "The Egg" is an ostrich egg that is sawn out as Arne Jacobsen's chair. The egg and in the chair sits a very proud, and relaxed ostrich with the legs over crosses.
All the eggs are filled with some cement-like mass in which he has cast and added the eggs. legs and head.
The casting process begins with him forming the ostrich head and neck into cheese wax. This is then moulded into a gypsum mixture and burned into a ceramic oven. Then the bronze bar is melted into a crucible and the liquid bronze is now poured into the mold. Then the shape is broken and the bronze head is sicelered. Finally, the sculpture as described above is assembled.
The images from the process