Swedish Villa Bernstoffsparken
Artist Charlotte Tønder exhibits - 2015
in Swedish Villa with sculptor Hans Felthaus
Invitation
Swedish Villa
Continues the 2015 season with an exhibition by the artist.
August 7 to 20 September 2015 (both days incl.)
Yours sincerely
Swedish Villa Foundation
Hans Toft
President
Read more 
www.svenskevilla.dk/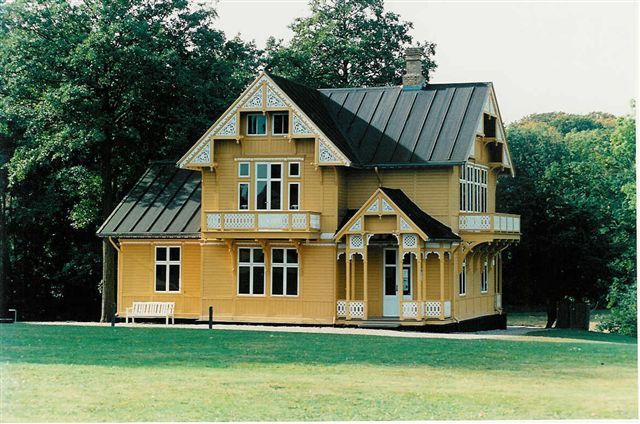 The story behind the Swedish Villa
Swedish Villa was built on the orders of the Swedish State and exhibited in 1888 in Copenhagen at the large Nordic Industrial, Agricultural and Art Exhibition as an example of classical Swedish wood building art.
The then Queen Louise liked the villa and she bought it for construction in Bernstorffsparken when the exhibition was finished.
In Bernstorffsparken was Bernstorff Castle, built between 1760 and 1765 by Foreign Minister J. H. E. Bernstorff, for summer residence for himself and his family. Since 1854 – when he became heir to the throne – Chr. d. IX had used the castle as a summer residence. It was his favourite place to stay to suit his simple habits, and although the space conditions were cramped, he loved to collect his large lineage from most of Europe's royal houses here in the summer. Not without reason, Chr. d. IX was called "the father-in-law of Europe".
Queen Louise built The Swedish Villa as a guesthouse. As such, the villa operated until the king's death in 1906, when the royal couple's youngest son, Prince Valdemar, took over Bernstorff Castle as a summer residence until his death in 1939.
Prince Valdemar's and Princess Marie's five children Aage, Axel, Erik, Viggo and Margrethe grew up in the castle's lovely surroundings and Prince Axel and Princess Margaretha are bisat in bernstorffsparken's north-west corner. Above the burial chamber, a memorial stone has been erected.
After Prince Valdemar's death, the National Civil Guard took over the palace as a commanding man's school. It was used until 2008 by the Danish Emergency Management Agency.
From 1939 – 85, Svensk Villa has been rented out for various purposes. The villa belongs to the State and is administered by the Palaces and Property Authority under the Ministry of Housing.
Despite the already poor maintenance, Swedish Villa was listed in 1987.
Swedish Villa stood empty from 1985 to 1995, when in 1995 Svensk Villa was restored and used as a cultural centre on a private initiative.
Varnishing - August 2015.